Olin jo kirjottamassa meiliä Tovelle, mutta ajattelin samalla jakaa tämän tiedon teidän muidenkin kanssa.

Loistava ravintola, paljon paikallisia (95%) Ei mahdoton löytää.
Tällasta siellä oli sisällä.
Tämäkin maistu hyvälle                              
Näin hurja/kurja kyltti Via di Campo Marzio-kadulta johdatteli Rosinin kujalle.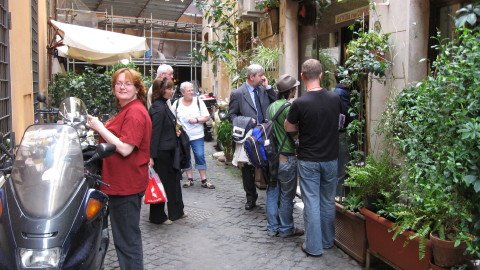 Tuolla nuo ihmiset jonottaa kun me jo ollaan poistumasta paikalta. Meillä oli siis varaus lounaalle. Ihan itte ja melkein italiaksi tehty.

DAL CAVALIER GINO
4 Vicolo Rossini
Pantheon
Tel: 39 06 687 3434
Good centro storico trattorias are hard to find, and Gino's is no exception: It's tucked away in a tiny cul-de-sac just around the corner from the Camera dei Deputati, the lower house of the Italian parliament. It pays to book, as the place tends to fill up with homesick deputati who come for the next best thing to mamma's cooking. The day's specials are chalked up at the entrance to this rustic time capsule; they generally include Roman classics like tonnarelli cacio e pepe (pasta with crumbled sheep's cheese and plenty of black pepper) and seppie e piselli (cuttlefish stewed with peas). The wine is onesto, as they say around these parts: gratifyingly low in price.
Closed Sundays.