Hmm, I love nice shiny lovely beautiful CLEAN toilets. The toilets are really in the boring side (in a good way) here in Finland. Not really strong on the "make an impression" side. Good. On our travels there has been some memorable toilet visits.
Why to erite about toilets? Today I was reading some blogs about Italy and found my way to this
site
that told how to use those hole at floor toilets w/o ruining your attiere.
It made me smile. I had heard about that kind of toilets and maybe I had seen/ used those somewhere but my first real memory of using those were from Peking. There I got a bit overdosed  by them and our local friend Bo had hard time to understand how strongly I insisted going to a western hotel to use their lobby toilets. In Vietnam and Bangkok we saw more of those and the latest experience was in Verona. It was a quite nice restaurant and there it was. The hole in the floor. One by one we went to the bathroom and came back with suprised look on our faces. On the way back to our fabulous B&B we had to make some specifying questions to our Italian friend Ciro, our wonderful guide to local wonders. He seemed to be amused by our not so sober question but was unable to help us decide should one stand thisway or thatway. His fabulous girlfriend Claudia was asleep and we did not get the needed female perspective to the subject.
I',m not new on this subject. Here you get to see some examples from my toilet intrest.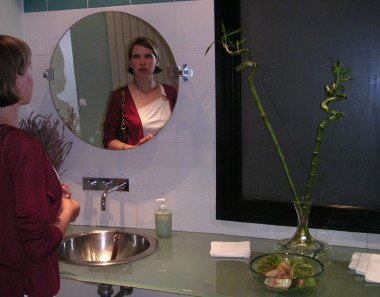 A nice bathrom in a two star ** restaurant
L'Amphitryon
, restaurant gastronomique, in Toulouse.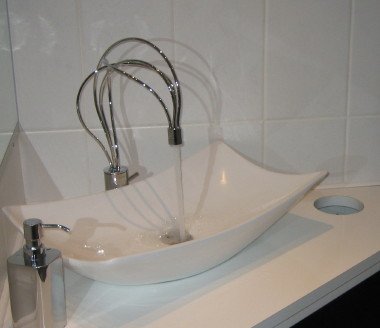 Quite fab faucet in Tallin,
Restaurant Ribe.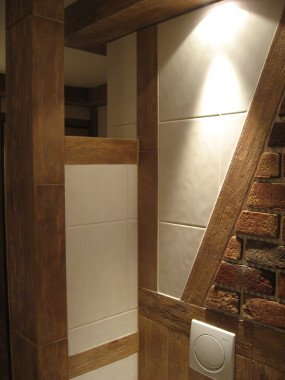 Amazing bathroom tiles in Reit im Winkel.
So here you saw some nice ones. The bad ones are so horrible that you do not want to stay the extra second it takes to take a picture.
NEW addition lahjoita kyykkylaatta tai pari Afrikkaan á 12 €