I'm known to be pretty anti child person. Palle has this ability to connect with kids, but nope, not me.

As we got married and had a wedding, two friends of us met (again) and ended up producing a child, Wilhelmina. She is pretty much the first (only?) kid ever to get me exited about kids. I could brag about her like proud mom, being totally sure that all those wonderful abilities come to surface as she spends so much time with our gang. Those not so favourable talents must come from the fathers side. ;)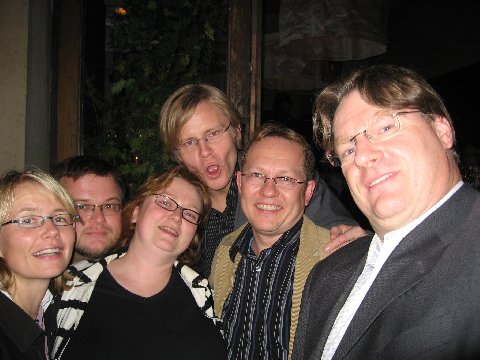 This is a picture of a rare occasion that Wiltsu is at home with a babysitter and her mom is out with her friends. Those so influental ones.

Hmm, in matter of fact, there has been two other occasions Mari has been going out, that I know. Both last week. Let me tell you about those:


 


On Wednesday as Mom was to leave for couple hours in X-mas concert, Palle asked: "Does Wiltsu know how to wipe her bottom herself?" That pretty much sums it up how much we know about kids. If a missus is 2 years and 7 months, she rarely knows how to do it. Nope.

Luckily they went to poo poo before Mommy left, or so we thought. It might be so, that it was too exiting to visit us or maybe it was my mom who might have been too scary (she happened to be visiting and had a laugh sitting on a sofa watching us to panic) or maybe there was a bug going on. Must have been the latest, as W was more quiet than usually. Anyhow we experienced an acute brown "pate" spreading in her lower back, not once but twice that night. And it smelld. BAD. Luckily there is enough of warm water here in this house.

Afterwards, as I red the SMS messages being sent to Mari by us during the night, I was laughing out loud. We managed to get it all pretty much under control after sending her a messages like "you might want to reconsider having the wine after the concert". She took another glass as well and

we did some laundry and red three times both Pettson and Findus
-book and Mimmi the Cow
before it was time to sleep. Or to be correct, fall asleep.
As Mari came to our place later that evening we decided to take it easy next morning and Wilhelmina would get to sleep as long as she wanted, and we would eat porridge at home instead going to day care for breakfast as usually. Ha ha, great plans, 07:15 she was awake.

So that was Wednesday. I considered myself brave and Mari daredevil as she was ready to leave Wilhelmina with me again on Friday night. Alone with me at this time, as Palle was going to Pikkujoulut. as well. I wasn't worked up at all as we had survived the Wednesday night as well. And to brag a bit, honestly- I wasn't even the only option for the night! Ok, the most convenient option.

As we picked her up from the day care with Palle, W was clinging to her mom like a burr. But the moment we closed the car door, leaving mom alone to go her X-mas party, everything was ok.

Some girls were going out to eat in a nice Italian bistro. I was crazy enough to suggest if I may turn up with the little lady. Maybe five years ago I was more than a bit harassed by kids on a similar outing, so I asked beforehand if the participants had child allergenis. But hey, the other option would have been to stay at home alone with a kid and worry about falling asleep after a hard work week on Friday night and leaving the kid unsupervised. Luckily we were allowed to join the party.

We arrived (fashionable) late were seated on the end of the table and got to order immediately. Milk for the lady and a beer for me. There was no separate menu for kids (I like it!) and we ordered smaller portion of spinach ravioli with porchini for her TORTELLINI ALLA PANNA 10,00€
Pinaatti-ricottajuusto täytteistä pastaa, herkkutatti-kermakastikkeella
and oven baked pasta for me 33.MACCHERONI GRATINATI 8.00€
juustolla kuorrutettu pasta, sipuli, herkkusieni, oliivi, munakoiso, kesäkurpitsa, gorgonzola, tomaatti, kermakastike. Her food was better. Mine was ok.
Wilhelmina, being so bright and wearing this "kan själv" (I can do it myself) T-shirt, was able to remind me that her bib was missing. No worry as we were in Italian restaurant we just stuffed the table napkins to our necklines. (Stupid me, there would have been this real bib in her backpack as I notices afterwords, but then we would not have matched) And drinking milk with a straw. So Italian. We both finished our portions and only one ravioli ended up at the floor. Achievement! We hade a race of spoons as we shared a tiramisu (I realized later that maybe I should have asked if there were alcohol in it, but it did not seem like it)

Girls were sceptical as I told W to not to go to the kitchen, but there she was. Taking some peaks around the place but no way, no need to go and check it out in the back room. Amazing.
I almost made a mistake not understanding Wilhelmina's "pittattaa, pittattaa". You are to say pissattaa as you want to go to the bathroom. It took couple of repeats by W to stimulate my brain so much that it gets it. And then it is time to rush to the gents with missus. We made it on time! Something I learned on Wednesday- to ask often if it time to go to the bathroom. Still I was taken by surprise.
I tried to bribe the girls with alcohol to come home with us. Only one swallowed the bait and we opened a bottle of red as we red couple rounds of Pettson and Findus and Mimmi cow to Wiltsu. But hey, we made it through the night, even the last moments, just two of us. The child was delivered to the night train  sleeper and woke up next morning in Kemi (or most likely already in Oulu). And she is welcome to visit us again.
Please, show me more kids who can behave at the dining table. Not those, who need videos or ball pool in order to get through a meal. Ok, I'm spoiled in this sense as well. Some puzzles and finger games are ok.