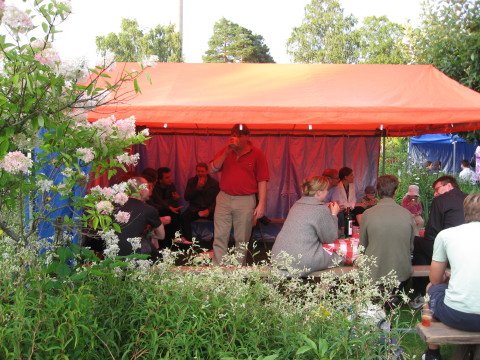 Something previously unseen was to be experiensed at Ruskeasuo last Satudrday. It was only 8.30 PM as the last droplets of a VEGETABLEsoup were eaten in the lott 23. According to the cook there was to be enough food for 90 people, but there were only 89 guests to be counted at that moment. Horrible misscalculation! Late arrivals were fed up and after half an hour they were fed w/ some pasta sallad miraculously appearing from the tiny kitchen.
Error in the database might have been the reason for the  serious deficiencies in the numbers of names in the attendee list. Something to work on for the next party.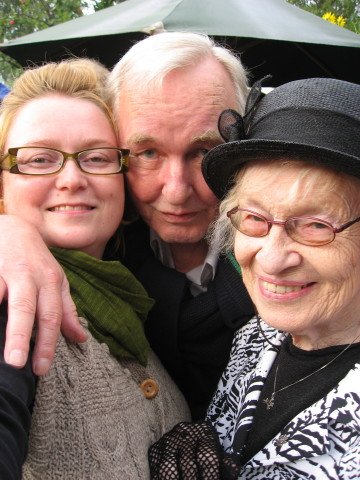 Some of the guests appear year after year at these gatherings. This was the 8th annual garden party and we are trying to count the ordinal number for the Jul Glögg. Help from the readeres would be appreciated.
More children than ever before were seen in this year and as we were keeping watch by the punch-station, more seem to be on their way to appear at the next years party.
Just to mention some of the regular guests missing this year: Fabulous hairdresser Aina w/ her handsome Peter as well as the Finlands nr one handsurgeon Tove were longed to seen. Lack of hostesses workmates was noticed, specially the blond was asked after.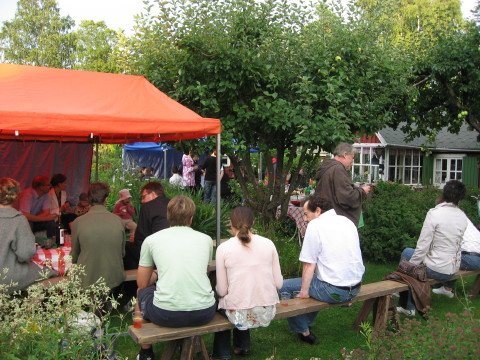 Some new inventions were seen this year. There was a pier connecting the lawns. Big thanks for Tylle for the idea and Inkku MacGyver & Palle for the implementation.
We can come to the conclusion that the party was a success.  As we interviewed the birthdayboy he seemed to be happy. Over 100 guests came to visit during the night and the last ones had sense to leave before 1 AM.
People are adviced to mark up  December 16th in their calendars as the X-mas Glögg-time is getting closer.