"To share" was the thing to be learned on my weekend in München. Shared joys are much more to be
appreciated. We shared our food, thoughts and clothes that weekend. Share the joy and share the food.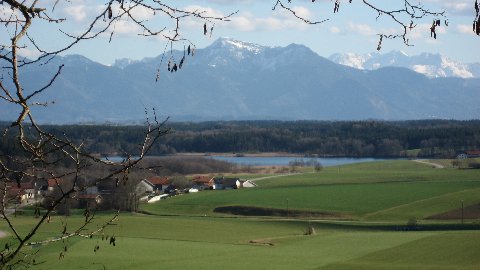 A picture taken by me. My mom thougth it was commercial so I just wanted to let you know it was a real situaion. Some village, somewhere. South from München.

It is always nice to look around and analyse the place surrounding us w/ Paula. We agreed that motorcycle men are not our types. And we are waiting for the non smoking legislations to pass in Germany as well. Huge amount of smoke takes to our nerves especially when we have bit unsettled stomachs.
I have studied German for 7 to 8 years.  Now it is locked somewhere deep inside me. When I met Palle, I felt that I have to shut out all the German I could in order to learn better Swedish. Those languages are quite similar in many ways and I found it disturbing at that point. Now that my Swedish is doing fabulously (if you ask Palle about it, he would be complaining how I refuse to learn some basic grammar pointers) I feel like I would like to start activating the German again.  Maybe a language course in somewhere middle Europe?
German saunas
On Monday I went to swim in a local pool. I had looked for a place w/ outdoor pools (a rare thing in a Finnish winter). Had a bit hard time finding the Dante-WarmfreiWinterbad location and ended up seeing a local siirtolapuutarha on my way there. They had a Beergarten in the middle of it! W/ greek food(?)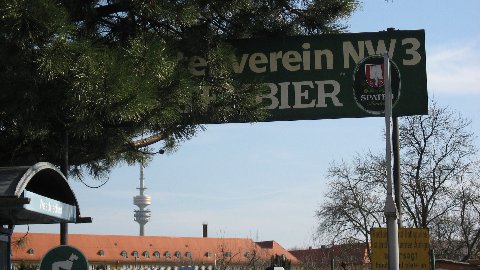 Zur Gartenlaube 
Dachauer Str. 293 
80992 München
Tel: (089) 1573371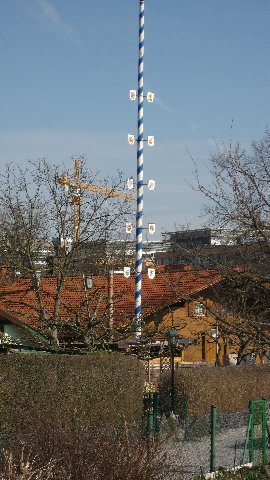 Their maypole.

Spying there was doing wonders for my soul  and I'm looking forward to go to Ruskeasuo after visiting Kleingarten in DachaustraSSe.
Back to the pool. I had hard time deciding w/ or w/o saunas- ticket. Curiosity took over the thrifty and I paid 13.20 to get to enter saunas as well. As it was Monday it was ladies only sauna. There were many different kind of saunas to be experienced. Paula had advised that talking was not allowed but I was alone… I started w/ Bio Sauna. It was gently lit sauna + 60 degrees w/ a huge bergkristall in the middle of it. People were laying there but I did not get even ward and searched after more heat. The familiar (or so I thought) Finnische sauna, +90 degrees was waiting for me. People had these huge towels and they were shifting between tiers there. There were huge sandglasses that ladies were using to measure the time, how long to stay in which level.  We have similar orders "how to bathe in sauna" in grandmamas place. Those were brought by a Swiss family and I thought it was a joke, but no, they sure seemed to follow the funny rules how to take their sauna. Hourly this bulky man would come and cast some water to the stones.
There was a wooden sauna outside and a Turkish steam sauna with changing colourful lights. The stone benches were warmed and ladies had their coffees and teas as well as sandwiches and fruits with them.
Next time I wish to visit  Müllersches Volksbad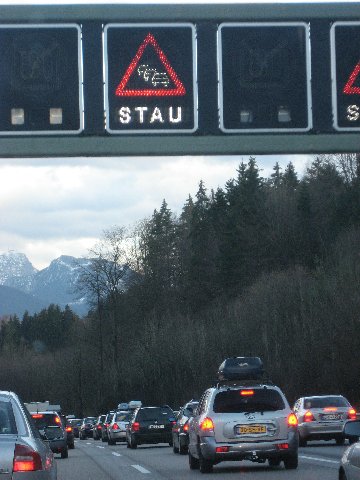 Lots of traffic.
As we were visiting Andy and Vicky close to Chiemsee I saw first time ever this new bible of mine, Osteria d'Italy by Slow food. My sense of foreign languages gets to its peak when I reed restaurant reviews. I'm pretty sure I could do it in Arabic as well, so interesting I find those. Vicky took me some copies about restaurants in Rome. And I already made sure that Ciro & Claudia have one copy as well. Looking forward to use it to find great places to visit in Sicily.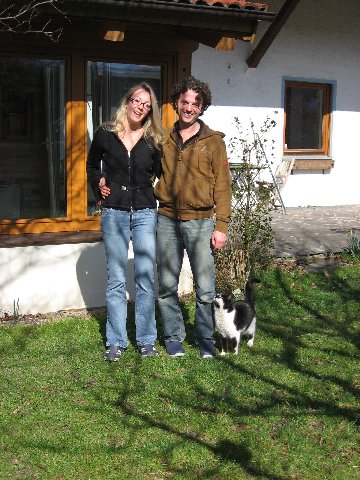 V& A and their cat.

The return trip to A&V was successful in other ways as well.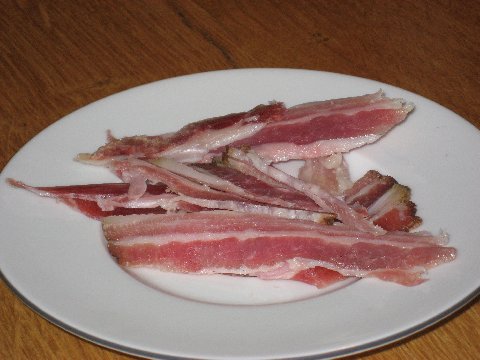 They had moved to a "city". Previously they lived in the middle of nothing in the countryside, and now they lived in a small village w/ a shop and bowling alley and restaurant. LakeChiemsee was really close by, mountains (Alps) in less than 5 km, neighbour has chickens, milk can be bought from the farm situated in 300m away etc.  They had their own "weinstube" as their dining hall. Just fabulous. We went to do some food hunting in the nature and found "Bärlauch" (bear's onion) and wild water cress. Just an amazing experience. Like the meat in the previous picture. Home cured by Andy's relatives. Nami nami.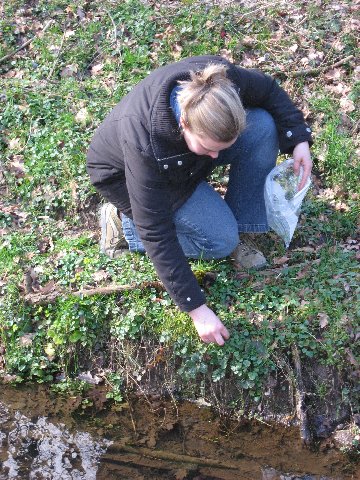 Paula living from nature.

Food is always the number one on my travels.

On Friday I walked around and went maybe to the third place I saw to have lunch dürum. The decision to enter the place was easy as the queue to this tiny place made it impossible to close the outer door. A good sign to my eyes. Maybe I'm taking after my grandpa Aarne, he went to the longest queues in old Soviet Union. His reasoning was to have the opportunity to practice the language. This "my" place was located in Theresienstr. 57(ein paar Meter östlich der U-Bahn-Station Theresienstraße). Here's the picture of it: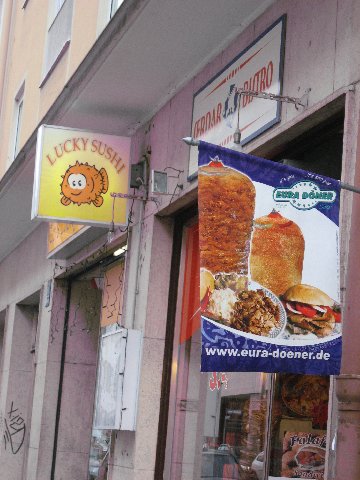 Mamas seem to be THE place to eat kebab in Munich. "Mama's Kebabhaus is almost an institution in Altschwabing."  There was no dürum on the list so I ordered the normal one.  It makes it harder for even evaluation, but I still assume that my tiny place on Friday was the best. Sunday night we walked many kilometres w/ Paula, searching for a kebab place around main railway station. The only thing what we were expecting was that there had to be other people as well. Found a place, kebab was ok. I still remember when kebab was something weird you ordered in Haparanda grill. That was a highlight of a shoppingtrip to Sweden.
We experienced great Vietnamese cuisine. I got to choose a place where we would go on Friday night w/ Paula's colleagues. Vietnam in my thoughts I found Vinhs on the internet "one of the few good and authentic Asian restaurants in Munich with moderately priced dishes." and it was located in the walking distance from where Paula lives.
Vinh got a bit inpatient w/ us as we could not order and decide what to drink in an orderly manner. Someone remembered then that they red somewhere that he was described as a "character".
Three of us asked Vinh what to order, and we got just fabulous food. The appetizers were not so great. I mean they were great tasting as it was dim sum, but it was not meant to be shared by 6 persons. Many things in the list would have been surely as magnificent to share as the rest of the meal. We got an extra salad with cabbage and dried meat w/ mango dressing and my whole body was shaking w/ joy of good food. We got some steamed meat wrapped in some green leafs, meat in small sticks, and just fabulous grilled to perfection scampi's. All that was served on a banana leafs w/ vermicelli, herbs, salad and the local sauce made w/ fish sauce and something more.  The duck in Hanoi style w/ sugar snaps was so great as well. We got to try what everybody else ordered and everything was better than good. So many happy faces were seen around the table.
As we started to discuss if someone had seen something interesting on the dessert menu THE dessert arrived. Fried bananas in the shape of IT. Vinhs was apologising that they had so small bananas.  At that point you could have heard me laughing out loud in the bathroom. So weird was the experience. A bit later Vihn came w/ local Alepa bag to show off w/ the doves and was apologizing hat that night there was no show (due the lack of inspiring males). We wondered what he was talking about as the show was going on all the time…
The bill was 22.50 each including two drinks/ person.  We all found it more than satisfying experience and definitely will be going back.
Vinhs, Leonrodstr. 29, Münich Neuhausen, Tel.: 089 1238925
       ***   ***   ***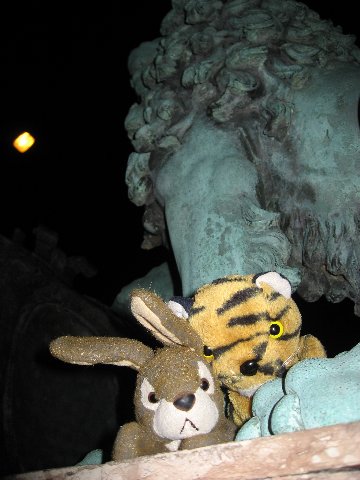 Our last night out we walked all the way to Residenze. Lions are guarding it. as you can see. A Pfälzer weinstube is located there and Paula cot a bit sentimental eating food "just like in Karlsruhe". The flammkuchen was fabulous and at this point we had learned that sharing is the thing. As we drank two classes wine and enjoyed excellent service we concluded that we'll meet again…
One of the waited highlights of this trip was to eat
kebab
. Living where we live here in Helsinki, local kebab places are extremely common (we have 4 or 5 places in less than 4 minutes away from us). So I was really surprised that we really had to work hard on finding places in Munich.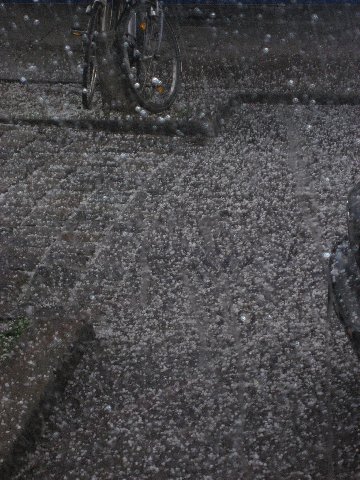 Weather was ok while I was there. +6 to +12. More than here in Helsinki. Some rain we got and huge hales, the biggest what I have ever seen, as well. We were searching for a restaurant w/ Paula's American friends Barbara and Diane as the dark clouds were rolling in. Luckily we were inside as these golfballs were pouring down. And as Paula was driving me to the Airport the fog was quite thick.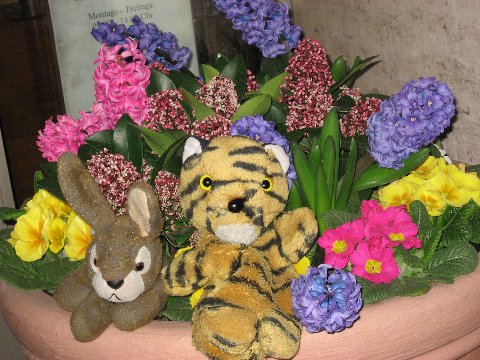 Suris and Jaska were w/ me and are injoying the spring in this picture.
But funny thing was that I really missed Palle on this trip. So many things I would have liked to share w/ him. And people were asking after him.
The fact is that most likely I have it much more relaxed w/o him as Paula and Palle disagree in some feministic/chauvinistic point of views. And just to have fore "fun" they have a tendency to overdo it a bit and they start tormenting each other. And Palle does have hard time trying to understand the female thing "just hanging around" what I myself find most fabulous way of being w/ your friends. Still next time we might go together. Maybe we'll try to go when it is the time for Auer Dult
At least there will be
flea markets
to be seen then. This time we found accidentally a local flea market close by V&A and bought fabulous pinguen raincoat for Wilhelmina. Paula found it!
It seems to me that every time I take longer or shorter break from
job
, there are sudden organisational changes at work. Something work related came to my mind and I send a SMS to my colleague. He replied that we have a new boss starting next week. The news were good but activated too much of my thinking as it was supposed to be vacation.