...is to sleep. I'm master on it.

Today we discussed about the weather, how depressing it is, and about the length of the day here in Helsinki.
Aamuhämärä alkaa: 08.27 dawn
Aurinko nousee: 09.24 sunrise
Aurinko etelässä: 12.24 The Sun at south
Aurinko laskee: 15.25 sundown
Iltahämärä loppuu: 16.22 end of the dusk
Päivän pituus: 06h 01m the length of the day
That 6 hours feels like zero when there is no snow and the sky is covered with gray, dark gray, clouds. Normally at this time of the year we could enjoy the whiteness of the snow or at least the light gray of the slush. But no, not at this year.

So all that shit makes my body clock paralyze. As soon I see a couch or a bed, I can hear the true invitation. "Take a small nap" Yeah, a small nap. Like today. My wonderful friend Seppo called me 18.44. I was so happy to hear from him after him being away to Hanoi the past two weeks, but no, the only thought was- when will he stop talking so I'll get to sleep. The next conscious thought was at 22.44. Took a 4 hour nap. And it's the first day at work this week. Scary.

Last week on Friday we went to have glögg with friends at 4PM to Kirkkonummi. It was a nice sunset then. As Palle went to play sähly with his friends we had to come back to town and I was home at 7PM. What did I do? Guess! Take a wild guess! Ha, gathered my Tiger, this computer in a bag (that I did not even open that night), the new Allt om Mat and the daily newspaper. I think I might have managed half of the food magazine. Then I slept like a log. Woke around 11PM and went to bed. Awoke a bit as Palle got home before 4AM and continued to sleep until way past 10 AM.
15, fifteen hours of sleep!
On New Years Eve our companion asked Palle how I do it, took a nap for an hour and continued with a nap of three hours. That was at some point bw 3 to 9 PM. Then at night it was no hard work to fall asleep at 1AM and sleep until 10. I woke couple of time to the chime of old grandfather clock and had to pee zillion times due the intense Vichy drinking as we run out alcohol to start with.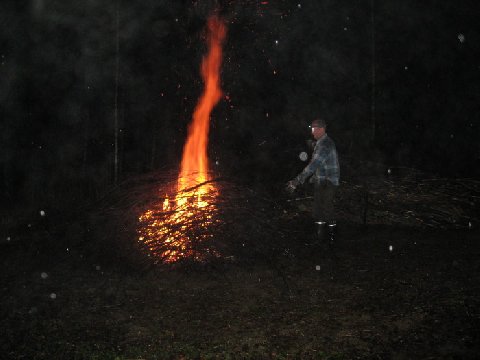 There the secret weapon was the lack of stimulating company. They just were stumping back and forth in mud and having a big fire to burn the piles of brushwood. Oh yeah, it was fun for couple of hours, shame I did not take a picture of my shoes after it. But no, it's not my idea of spending time together. Did I mention that it was raining lightly all the time? Maybe I'm pushing it, it was only a drizzle, most of the time.
I was so happy that I had Suris with me.
Just last week I asked my workmate if it is me who is depressed, or is it the whole situation. Is it a cause or an effect? Partly we can blame the weather, but no, it's not the answer to this question.
I must be quite depressing company these days. My favorite way to fill in time would be hanging on a friends couch and seeing the evening go by, hopefully awake. I feel too tired to go to a movie, afraid that I would start snoring after 15 minutes. As I was complaining that life is filled with sleeping on a sofa (for her) and TV (for him) said our friend Anja: "Get on, that's normal life." Is it really?